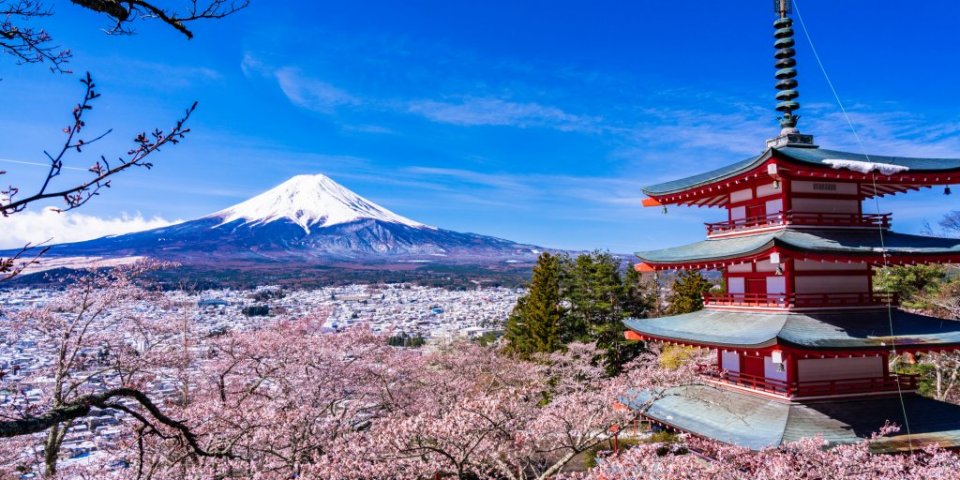 This is a course that visits the famous cherry blossom spots in Fujiyoshida - including Arakurayama Sengen Park which is popular around the world.
One of the Top 100 Mt. Fuji Viewing Points in Kanto area. In spring, Mt. Fuji can be enjoyed with someiyoshino blossoms, and in autumn, with colored maple leaves.
2
Arakurayama Sengen Park
This is one of the Top 100 Mt. Fuji Viewing Points in Kanto area, and the scenery of Mt. Fuji with Chureito Pagoda is famous.

"Mt. Fuji and Five-story Pagoda (Chureito) in Winter"
Mt. Fuji looks more overwhelming with snow on top. On a clear day in winter, the contrast of three colors of blue sky, white snow, and the red pagoda is fascinating.
The sun-lit Mt. Fuji shines in gold with autumn leaves. The autumn clouds are also characteristic in shapes, so this is the best season to photograph the clouds performing over Mt. Fuji.

"Viewing the Townscape of Fujiyoshida City with Mt. Fuji in the Background"
You will have an entire view of Mt. Fuji from Arakurayama Sengen Park. If you see the spectacle from here, you will agree to a catch line of Fujiyoshida City "Mt. Fuji is always here."
5
Katsuragawa Kasen Koen Park
This park alongside the Katsura River has a very long length of about 580m and a width of 14m, and has a cycling road in it. The park is visited by the residents to enjoy full of green, and a sublime view of Mt. Fuji with the Katsura River in the front.
6
Purchase souvenirs at Saygets Fujiyoshida
This is a popular confectionery shop with eight locations in Yamanashi Prefecture. Its long-selling Italian rolls are roll cakes wrapped in crepe dough. The cream that is in abundance and the moist dough are tasty. There are a wide variety of types available: plain, chocolate and chestnut. The Fuji Baumkuchen in the shape of Mt. Fuji is also popular.