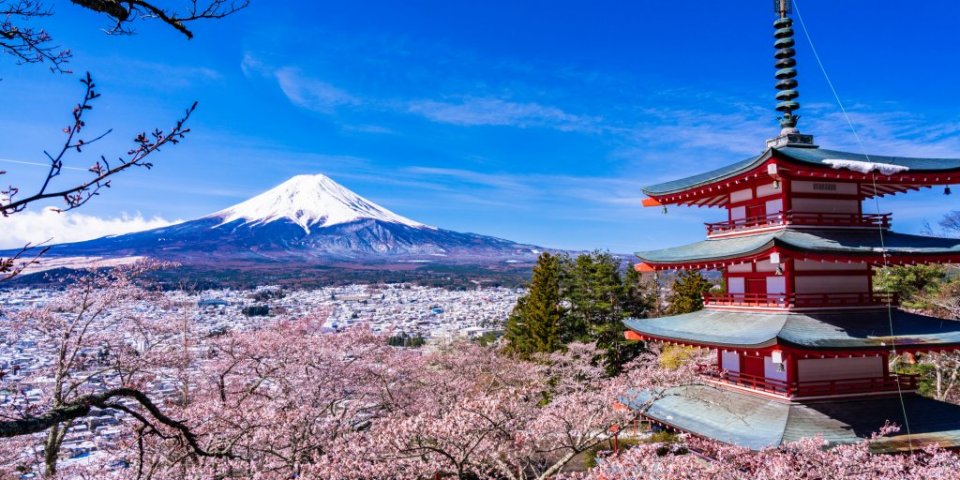 This is a course that visits the famous cherry blossom spots in Fujiyoshida - including Arakurayama Sengen Park which is popular around the world.
One of the Top 100 Mt. Fuji Viewing Points in Kanto area. In spring, Mt. Fuji can be enjoyed with someiyoshino blossoms, and in autumn, with colored maple leaves.
2
Arakurayama Sengen Park
【 NOTICE OF CLOSURE OF OBSERVATION DECK 】
The observation deck has been under construction from July 13, 2021
and will continue to be inaccessible through March 18, 2022.
We apologize for any inconvenience.

【 REGARDING ACCESS TO THE PARK DURING COVID-19 】
Though we welcome guests from across the country and world to enjoy this iconic scenery year round, we ask that residents of any areas that are under state of emergency orders refrain from traveling to and entering the park.

【 COVID PREVENTION MEASURES 】
・wear a mask
・maintain social distance (2 meters apart)
・keep your visit short

---------------------------------------------------------------------------------------------------------------------------------

Home to this iconic scenery, Arakurayama Sengen Park is one of the Top 100 spots for viewing Mt. Fuji in the Kanto region.

The park begins at the base of Mt. Arakurayama and extends up the mountain. At the top of a 398 stair hike is an observation deck that looks out over the cityscape of Fujiyoshida City and majestic Mt. Fuji towering above. Though the Spring sakura (cherry blossom) season is best for capturing the symbolic image of Mt. Fuji, cherry blossoms and five-storied pagoda, the park can be enjoyed throughout the year with a stunning view that changes with the seasons.

This is one of famous Japanese tea shops in Fujiyoshida.
They have 2 flavor tea ice creams which are Green tea(抹茶) and Hojicha(ほうじ茶)that change weekly.
Let`s take a break with sweets.

Basic Information
6
Katsuragawa Kasen Koen Park
This park alongside the Katsura River has a very long length of about 580m and a width of 14m, and has a cycling road in it. The park is visited by the residents to enjoy full of green, and a sublime view of Mt. Fuji with the Katsura River in the front.
The popular roll cake offers excellent compatibility with its soft dough and light-tasting cream. You can also enjoy chocolate, tea and other flavor variations.
8
【Souvenirs】Tokyo ya Seika
This company uses carefully selected adzuki beans, red bean paste, rice and flour produced in Japan. The beautiful "dried confectionary" modeled in the shape of Mt. Fuji has a sweet and crisp texture. It has a beautiful appearance, so it is very popular as a souvenir.