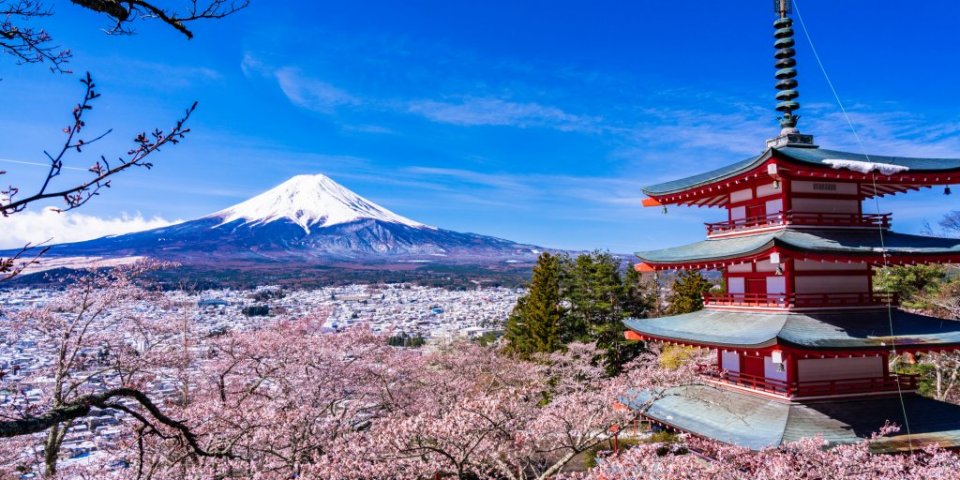 This course will take you around the best spots for viewing cherry blossoms throughout the city including the iconic Chureito Pagoda.
1
Fujimi Kotoku Koen Park
One of the Top 100 Mt. Fuji Viewing Points in Kanto area with beautiful "someiyoshino" variety cherry blossoms in the spring, and vivid crimson Japanese maples in the fall.
2
Arakurayama Sengen Park
【 REGARDING ACCESS TO THE PARK DURING COVID-19 】
Though we welcome guests from across the country and world to enjoy this iconic scenery year round, we ask that residents of any areas that are under state of emergency orders refrain from traveling to and entering the park.

【 COVID PREVENTION MEASURES 】
・wear a mask
・maintain social distance (2 meters apart)
・keep your visit short

---------------------------------------------------------------------------------------------------------------------------------

Home to this iconic scenery, Arakurayama Sengen Park is one of the Top 100 spots for viewing Mt. Fuji in the Kanto region.

The park begins at the base of Mt. Arakurayama and extends up the mountain. At the top of a 398 stair hike is an observation deck that looks out over the cityscape of Fujiyoshida City and majestic Mt. Fuji towering above. Though the Spring sakura (cherry blossom) season is best for capturing the symbolic image of Mt. Fuji, cherry blossoms and five-storied pagoda, the park can be enjoyed throughout the year with a stunning view that changes with the seasons.

3
Lunch at Arakuraya Udon
Known for having less tough noodles than the typical Yoshida no Udon shop, Arakuraya is the ideal place for first timers. Stop here for a delicious filling bowl of noodles at a truly great price.

------------ Shop Features --------------
【Noodles】   soft, chewy noodles
【Broth】   soy-sauce and miso
【Toppings】  green onions, cabbage, carrots, horse meat, tempura
【Seasoning】 sesame、shichimi、ichimi、suridane

------------価格--------------
★hiyashi tanuki udon・・・・400
(chilled noodles with tempura flakes)

★nikuten udon・・・・・・・450
(warm noodles topped with horsemeat and vegetable tempura)

★nabeyaki udon・・・・・・600
(hot noodles stewed in a pot with vegetables)

kake udon・・・・・・・・300
(standard bowl of warm noodles)

niku udon・・・・・・・・・400
(warm noodles topped with horsemeat)

tempura udon・・・・・・・400
(warm noodles topped with vegetable tempura)

nikutsuke udon・・・・・・・400
(noodles with separate broth with horsemeat for dipping)

nikuten tsukeudon・・・・・・450
(nooldes with separate broth with horsemeat and tempura for dipping)

※★house favorites
The "shidare-zakura" weeping cherry blossom draws spectators each year during spring.

Basic Information
A beloved local tea shop known for their wide variety of the finest quality tea and for their tea flavored soft serve that alternates between hojicha roasted green tea and traditional matcha every day.

Basic Information
6
Katsuragawa Kasen Koen Park
This is a park frequented by local residents with beautiful views of Mt. Fuji
Qurulu is a tiny little cake shop located in the Oasumi neighborhood of Fujiyoshida that specializes in rolled cakes. Their batter is made with eggs known for their rich yolks collected in neighboring Oshino Village and are baked to perfection in the shop's signature style. There is no questions that one taste will leave you hooked and coming back for more.
This company uses carefully selected adzuki beans, red bean paste, rice and flour produced in Japan. The beautiful pictured "dried confectionaries" modeled in the shape of Mt. Fuji are very popular as a souvenir.