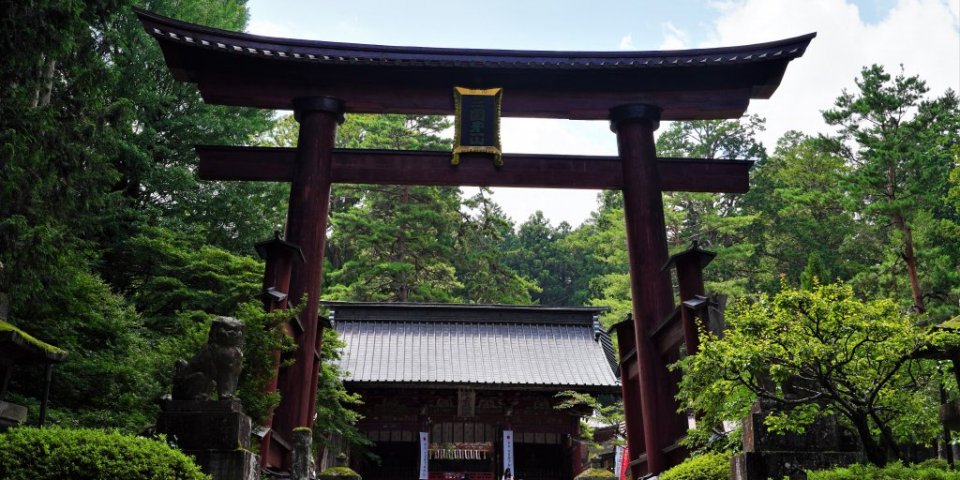 This is a trip for adults to experience the real pleasure of the World Heritage Mt. Fuji in Fujiyoshida that once flourished as a city of priests.
1
【DAY1】Oshi House of Former Togawa Family
"Oshi" is a person who took care of Mt. Fuji worshippers for their climbing, by offering his own house as an accommodation, praying for their safety and spreading the Mt. Fuji worship, and the house is called Oshi's house. In the peak period in the Edo era, there were 86 Oshi's houses built in Kamiyoshida section and they supported Mt. fuji worship. The main house of the Oshi house of former Togawa family, which is one of the Mt. Fuji World Heritage Site Assets, was constructed in 1768, with the rear salon added in the end of the Edo era, and is a valuable construction remaining from the old time.
Inside the house is a shrine dedicated to Mt. Fuji deity and a spacious salon which enables us to figure the life in Oshi's house. There are also precious archives displayed for visitors to learn the association of Mt. Fuji worship and Oshi.
2
【DAY1】Kitaguchi Hongu Fuji Sengen Shrine
This shrine is said to have originated in 100 A.D., when a small shrine was built to celebrate the visit of prince Yamato Takeru-no Mikoto to this hill when he was on his way to Kai Province from Hakone, and to remember his blessing message at the time, "the divine Mt. Fuji shall be viewed from the north". Later in 788, the altar was set to enshrine Sengen God at the present site to alleviate frequent eruption of Mt. Fuji, and the spirit of Yamato Takeru was enshrined in Otsuka yama at that time. Mt. Fuji had been worshipped from ancient time and regarded the bounds of sacred, but people started to enter the mountain for ascetic training by the influence of ancient mountain worship, and this shrine became a basis of Mt. Fuji worship. In the Edo era, "Fuji-ko" worship gained explosive popularity and this area flourished as its sacred spot. The site was designated as one of Mt. Fuji World Heritage Site Assets in 2013.
3
【DAY1】Harvest Terrace (Fujiyama Beer)
Fujiyama Beer was renovated and opened as a new restaurant.
The museum exhibits the materials related to Mt. Fuji and Fujiyoshida City; Mt. Fuji worship, World Heritage Site Assets, the history, folklore, and the industries of the city over the time with the history of Mt. Fuji.
5
【DAY1】Roadside Station Fujiyoshida
A road station where the joys of "shopping", "eating", and "playing" are gathered at the foot of Mt. Fuji.〈Front Entrance〉
In front of the Roadside Station is a spacious deck for events, where local residents sell flowers and vegetables, nursery plants they grow, sundry goods, etc. Also flea markets and street performers shows are held periodically.
〈Tourist Information Corner〉
Fujiyoshida sightseeing information is in this corner, providing a full range of brochures of the Fuji Five Lakes area. The window is always staffed with personnel for your detailed questions. Also, you can purchase "Roadside Station Ticket", road maps, etc., check the latest traffic and weather information with live-cam on a large display at the corner.
〈Bussan-kan〉(Local products shop)
This shop deals with products from the Fuji Five Lakes area in the greatest variety. The bountiful products are seasonable, and the price is reasonable. Yamanashi's standard souvenir "Shingen-mochi", the Roadside Station's original sweets, local wines and sakes, udon noodles, sundries and crafts such as inden, etc. are sold here.
〈Free of charge, Mt. Fuji spring water〉
Mt. Fuji spring water pumped from 100 meters below ground can be taken away for free. The water is smooth and mild, abundant in minerals. The plastic containers and pet bottles for water are sold at the Roadside Station's Bussan-kan.
※The water has the least necessary chlorination, but is not treated for preservation, so use it soon after you take it.
6
【DAY1】Kitaguchitei(dinner)
7
Oshi House(Stay one night at one of Zuzuya, Daikokuya, Hitsuki Guesthouse & Cafe)
9
【DAY2】Noson(farming village) Koen Park
A good spot to take photographs. You can take photos with a feeling of the season here, such as the ones with paddy fields (a symbol of spring) and Mt. Fuji altogether. Many photos which had entered Fujiyoshida City Photography Competition were shot here.
10
【DAY2】Lunch at Shirasudon