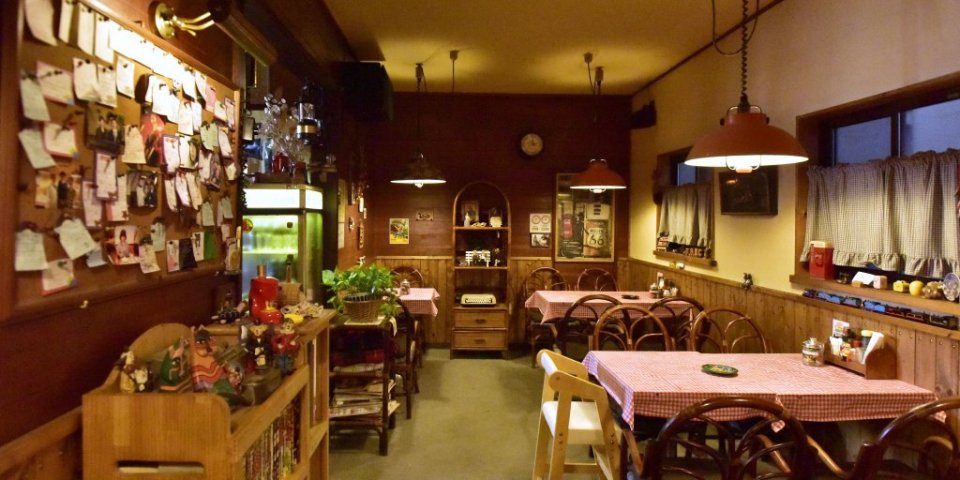 Explore an area where time has stopped and remains so authentically reminiscent of the Showa Era that its been used as the backdrop for films and television. With this recommended course of cafes nestled within this unique townscape visitors are transported back to the Showa Era.
This is a spacious café where you can take off your shoes and relax. You can enjoy local specialties like Yoshida no udon noodles and hoto noodles and giant parfaits made with heaps of ice cream.
Guests can enjoy organic coffee prepared with the utmost care and handmade cakes made with thoughtfully selected ingredients.

Basic Information
A local favorite that offers many nostalgic staples of Japanese-style western dishes like doria, katsu curry, and hamburg stake. Daikon radish spaghetti can also be found on the menu as an ode to the late front man of the band Fuji Fabric who was a Fujiyoshida native and remains a beloved local icon.
西裏通りからウエストキング通りに入った路地にある青い瓦屋根が目印の若草珈琲。
もう一度珈琲を!と、以前使っていた店舗を改装、お父様が根の神通りで営んでいた焙煎珈琲店[若草]の看板を引き継ぎ、令和2年12月26日に25年ぶりの時を経て再びオープンしました。

Basic Information