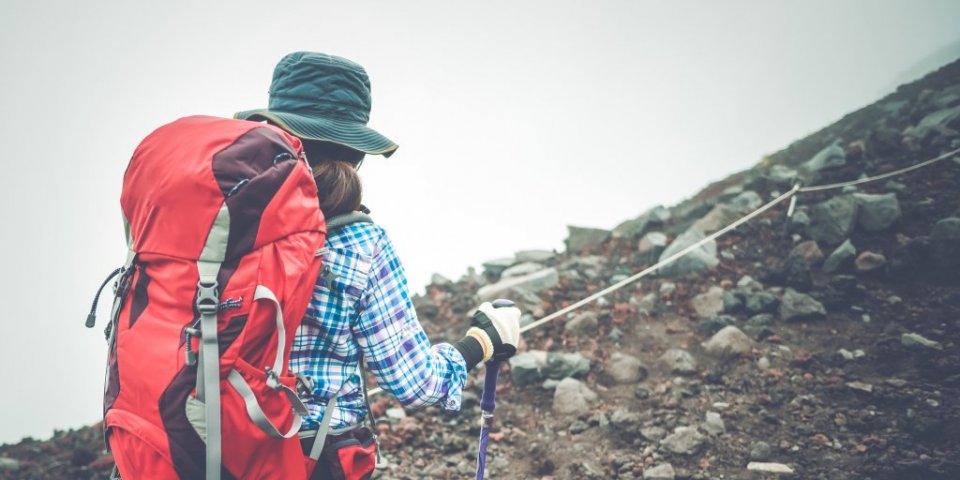 On this course, you will climb from the 5th Station at a leisurely pace, allowing your body to acclimatize, and arrive at the mountain hut located at the 7th to 8th Stations by around 5 p.m. and stay there overnight. You will wake to see the sunrise from the comfort of your mountain hut the next morning and either ascend to the summit or descend the mountain.

The sunrise can still be seen in its full glory from this altitude so as long as you are not overly concerned about seeing the sunrise at the summit, this course will allow you to get a full nights sleep and also avoid the crowds headed to the summit in the middle of the night. This course is recommended for those who are looking for a less rigorous course.
1
【DAY 1】1 PM Fuji Subaru Line 5th Station
This is the terminal of the Fuji Subaru Line tollway, and the starting point of Mt. Fuji Yoshidaguchi Trail at the fifth station.
2
【DAY 1】3:30 PM Around 7th Station
From the 5th to 6th Station there is an incline but you will be met with some near vertical rockfaces at the 7th Station.
3
【OVERNIGHT】 Stay at an 8th Station Hut
4
【DAY 2】4:30 AM See sunrise from your hut
The huts at the 8th Station stand at an altitude of 3,000. There is virtually no difference between the sunrise from the hut and from the summit.
Winds begin to pick up here so its important not to rush and to climb at a slow and steady pace.
At this time the summit is less crowded and will allow you a more leisurely time to rest and circle the crater.
8
【DAY 2】1:30 PM Arrive at the 6th Station
9
【DAY 2】2 PM Return to Fuji Subaru Line 5th Station