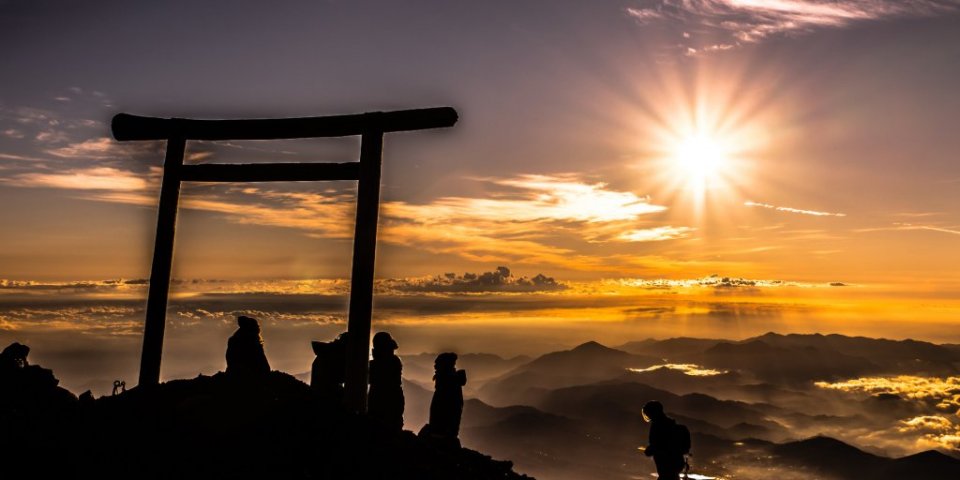 You will stay in a mountain hut located at the seventh to eighth stations and then climb to the summit of Mt. Fuji to see the sunrise.

You will arrive at the 5th Station at around 12 p.m. Your body will acclimatize to the altitude while you eat lunch at relaxed pace. You will start climbing Mt. Fuji in the afternoon and aim to arrive at the mountain hut at around 5 p.m. You will take a nap in the mountain hut located at the 7th to 8th Stations and then depart at around 11 p.m. to 1 a.m. You will see the sunrise at the summit of Mt. Fuji at around 4:30 a.m. If you have the energy, you can also try walking around the circumference of the summit before descending the mountain.
1
【DAY1】1 p.m. Fuji Subaru Line 5th Station
This is the terminal of the Fuji Subaru Line tollway, and the starting point of Mt. Fuji Yoshidaguchi Trail at the fifth station.
五合目から六合目まではなだらかな坂道が続くが、七合目になると岩場が始まる。
3
5 p.m. Stay at the 8th Station
Take a nap and then depart at 11 p.m. to 1 a.m.
Climb Mt. Fuji
4
【DAY2】4:30 a.m. See the sunrise at the summit of Mt. Fuji
5
【DAY2】6:30 a.m. 8th Station
6
【DAY2】8 a.m. 6th Station
7
【DAY2】8:30 a.m. Fuji Subaru Line 5th Station