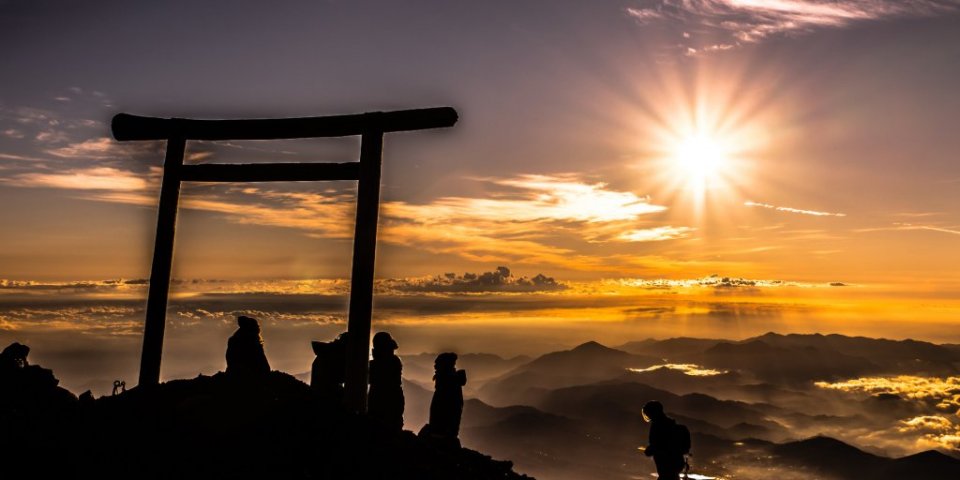 On this course, you will stay in a mountain hut located at the 7th or 8th Station then climb to the summit of Mt. Fuji to see the sunrise.

Arrive at the 5th Station at around 12 p.m. and allow your body to acclimatize to the altitude while you eat lunch at relaxed pace. Begin climbing Mt. Fuji in the afternoon and aim to arrive at the mountain hut at around 5 p.m. Take a little rest in the mountain hut then depart between 11PM to 1AM. If you keep pace you will see the sunrise at the summit of Mt. Fuji at around 4:30AM. If you have the energy, you can also try walking around the circumference of the summit before descending the mountain.
1
【DAY 1】1 PM Fuji Subaru Line 5th Station
This is the terminal of the Fuji Subaru Line tollway, and the starting point of Mt. Fuji Yoshidaguchi Trail at the fifth station.
From the 5th to 6th Station there is an incline but you will be met with some near vertical rockfaces at the 7th Station.
3
【REST】Stay at Mountain Hut
Take a nap and then depart at 11 p.m. to 1 a.m.
Climb Mt. Fuji
4
【DAY 2】4:30 AM Sunrise at the summit
Take it nice and easy on your descent as the terrain is slippery and you'll surely be feeling tired at this point. There are long stretches without restroom facilities so be careful. The descending trail is open from July 1 - September 10
6
【DAY 2】8 AM 6th Station
7
【DAY 2】8:30 AM Back to Fuji Subaru Line 5th Station