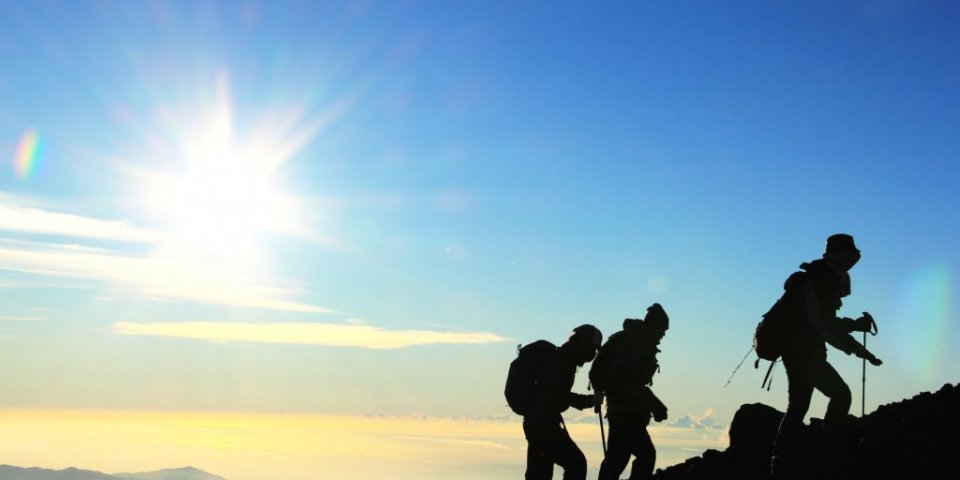 Enjoy climbing Mt. Fuji at a relaxed pace that is gentle on your body with an overnight stay on your ascent and another overnight stay on your descent.

You will stay in a mountain hut around the 5th to 7th Stations on the first day. You will have time to spare, so you might like to take a stroll on the route around Mt. Fuji. You will see the sunrise from your mountain hut the next morning. You will climb the mountain when it is sunny, so there will also be no crowds. This means you can climb the mountain without stress. You will stay one more night in the mountain hut around the 8th Station on your return. It is also a joy to look at the lights in the world down below you here.
1
【DAY1】Fuji Subaru Line 5th Station
This is the terminal of the Fuji Subaru Line tollway, and the starting point of Mt. Fuji Yoshidaguchi Trail at the fifth station.
ここから登山が本格的に。七合目までは途中にトイレはないので、こちらで済ませておくと安心。
『富士山安全指導センター』にて山中の情報入手もできる。
五合目から六合目まではなだらかな坂道が続くが、七合目になると岩場が始まる。
4
Stay at the 7th Station
初日は体を慣らしながらゆっくりと。
六合目を過ぎると岩場が始まり、登るのが辛くなり始めるが、
時間に余裕があるので、慌てないように。
高山病予防には、水分補給と呼吸をしっかりと。
5
【DAY2】4:30 a.m. See the sunrise
頂上まではもう一息。しかし、道も狭く、風の影響も受けやすいので、はやる気持ちを抑えてゆっくりと確実に安全第一で。
5 a.m. Depart and climb Mt. Fuji
7
【DAY2】11:30 a.m. Summit
8
2:30 p.m. Stay at the 8th Station
9
【DAY3】4:30 a.m. See the sunrise
足元は滑りやすいいので転倒に要注意。
下山道でのケガは意外と多い。
ここから登山が本格的に。七合目までは途中にトイレはないので、こちらで済ませておくと安心。
『富士山安全指導センター』にて山中の情報入手もできる。
6 a.m. Depart and descend Mt. Fuji
12
【DAY3】8 a.m. Fuji Subaru Line 5th Station