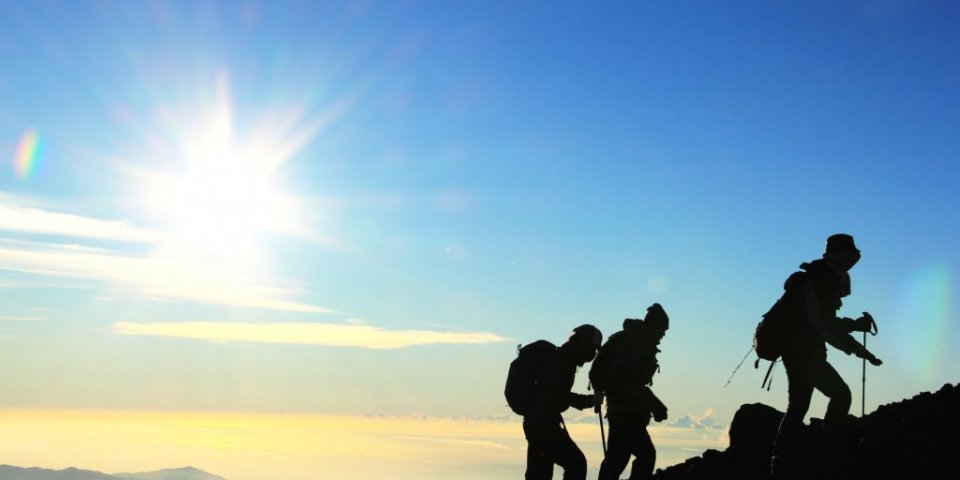 This is the most relaxed climbing plan and includes an overnight stay at a mountain hut on your way up and on your way down.

You will stay in a mountain hut between the 5th to 7th Stations on the first day. You will see the sunrise from your mountain hut the next morning. Following sunrise, you'll climb to the summit when it is light and when there are fewer crowds. Then you'll stay one more night in a mountain hut around the 8th Station on your return. The night views from the mountain are equally stunning.
1
【DAY 1】Fuji Subaru Line 5th Station
This is the terminal of the Fuji Subaru Line tollway, and the starting point of Mt. Fuji Yoshidaguchi Trail at the fifth station.
3
【DAY 1】 Around 7th station
From the 5th to 6th Station there is an incline but you will be met with some near vertical rockfaces at the 7th Station.
4
【OVERNIGHT】7th Station Mountain Hut
5 a.m. Depart and climb Mt. Fuji
5
【DAY 2】4:30 AM See sunrise from your hut
The huts at the 8th Station stand at an altitude of 3,000. There is virtually no difference between the sunrise from the hut and from the summit.
6
【DAY2】Around 9th station
7
【DAY2】11:30 a.m. Summit departure
8
2:30 p.m. Stay at the 8th Station
9
【DAY3】4:30 a.m. See the sunrise
6 a.m. Depart and descend Mt. Fuji
12
【DAY3】8 a.m. Fuji Subaru Line 5th Station